AHR Show Chicago successfully started for Air@Work

AHR Show Chicago successfully started for Air@Work.
Lots of interest for Air@Work's Energy Recovery Ventilation and Indirect Evaporative Cooling combined in one packaged air handler.
If you're visiting the AHR EXPO today or tomorrow please come and visit us at booth 7070!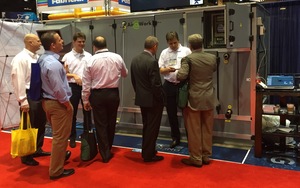 Air@Work, is revolutionizing the air conditioning industry, by implementing a highly efficient and highly reliable cooling process. This new Eco-Friendly technology offers the most efficient cooling system, highest energy savings, quality standards, innovation, design and manufacturing in the market today for:
• Data centers
• Industrial applications
• Oil and maritime industry
• Food and Beverage production
• Pharmaceutical and Medical labs
• Commercial – Restaurant – Hotel – Office Space and Shopping Centers.
Do you want to learn more about Air@Work's high energy efficient and environmental friendly indirect adiabatic cooling solutions?
Please visit Xtreme Cooling by Air@Work at the AHR EXPO 2015, in Chicago from January 26th till 28th, booth 7070!
www.airatwork.com
The Show brings together over 2,000 exhibiting companies and 40,000 visitors representing the entire spectrum of the industry including: HVACR manufacturers, engineers, contractors, OEMs, facility managers, and other
professionals. In addition, you'll find over 100 educational seminars, workshops (presented by ASHRAE and others) and new product presentations.
The AHR Expo is the World's Largest HVACR Marketplace.
 Datacenter World 2015
Data Centre World hosts the biggest exhibition of leading international data centre suppliers in the world!
Learn about and understand to the latest advances in datacentre technologies
Discover how you can revolutionise your datacentre security, save money and improve efficiency
Be inspired by over 200 key industry speakers covering the hottest industry topics completely free of charge
Benefit from dozens of real case studies from data centre and infastructure leaders dealing with the same problems as you.
Get practical "how to" advice from 200 leading international suppliers
Develop new relationships, partnerships, investment opportunities and business models
Network with your peers
Meet us at the
Data Centre World Event
Booth G60A
11 &12 March 2015 in London
About StatiqCooling and Air@Work

StatiqCooling is the developer and producer of highly durable plastic heat exchangers, which combine heat recovery and indirect adiabatic cooling in just one compact heat exchanger.
Air@Work is the developer and producer of air handling systems equipped with indirect adiabatic cooling inside, for reliable cool computer rooms, data centers and commercial (utility) buildings, against low investment- and maintenance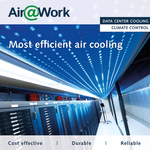 costs.